Big data analytics
Big data analytics is the often complex process of examining large and varied data sets, or big data, to uncover information -- such as hidden patterns, unknown correlations, market trends and customer preferences -- that can help organizations make informed business decisions.. See complete definition.

Download this free guide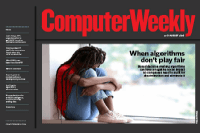 When algorithms don't play fair
In this week's Computer Weekly, we report on the auditing of algorithms to countervail bias. We examine what CISOs can learn from Covid-19. And we assess how competent AI is at building applications that deliver the best possible customer experience, in our buyer's guide to modern software development. Read the issue now.