Containers
Containers are a form of operating system virtualisation that allows developers to isolate and package up all or part of an application, effectively into a portable building block. Open-source Docker and Google-backed Kubernetes are both high-profile example of container technology, with IBM, Microsoft and Red Hat all championing the use of the former within their products and environments.

Download this free guide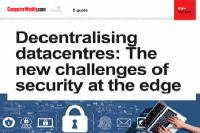 Decentralising datacentres: The new challenges of security at the edge
In September 2020, the Computer Weekly Security Think Tank, our panel of information and cyber security experts, considered the challenges inherent in decentralising the datacentre, and set out to answer the question, how can security professionals ensure such setups are just as secure as the traditional centralised model? Read more in this e-guide.